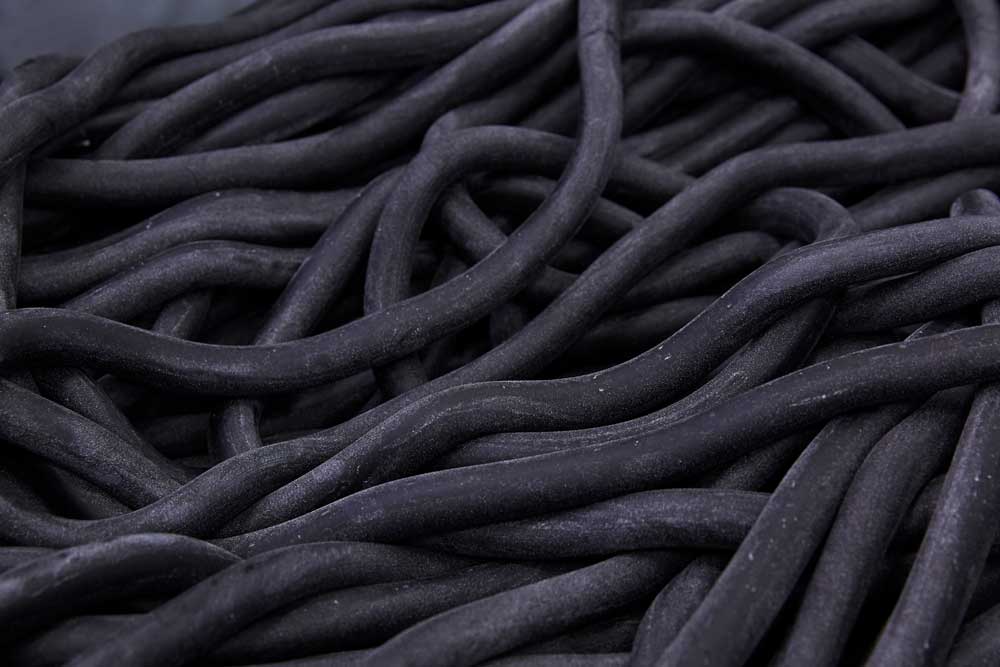 Polychloroprene (CR)
Neoprene is a commercial name for polymers comprised of chloroprene. Polychloroprene's overall physical characteristics classify it as a general-purpose elastomer. Excellent aging characteristics in ozone and weather environments, along with abrasion and flex cracking resistance, justify the general-purpose categorization.
Polychloroprene is alkali and acid resistant, flame retardant, and suitable for petroleum based oils. Animal and vegetable fats and greases also provide a highly stable environment for this polymer. Polychloroprene is noted for good compression set resistance, excellent flex fatigue resistance, and resistance to weather and ozone. Its excellent adhesion to metals makes polychloroprene ideal for molding with metal inserts.
Polychloroprene is not effective in aromatic and oxygenated solvent environments.
Compound 482BJ
High tensile and tear strength
Excellent flex fatigue resistance
Excellent serviceability in repeated distortion applications (o-ring drive belts)
Good for refrigerants
Compound 337Z, 323AR, 405A, 405DY
General purpose neoprene compounds in a range of hardnesses
Good weather, ozone, and flex fatigue resistance
Moderate resistance to petroleum oils and chemicals
Compound 486CT
Excellent aging characteristics
Proven in a variety of gasket and washer applications
Compound
Hardness Shore A
Tensile MPa
Tensile psi
Elongation
(%)
Oil Aging
Volume Swell (Change %)
70hr at 100°C/212°F
ASTM #1
Oil Aging
Volume Swell (Change %)
70hr at 100°C/212°F
IRM 903
486CT
70
13.0
1880
200
-2
+41
482BJ
70
18.3
2650
350
+5
+63
337Z
50
10.3
1500
500
-5
+60
323AR
60
11.0
1600
450
+1
+58
405A
80
13.8
2000
220
-2
+48
405DY
90
12.4
1800
100
-1
+35
Chemical and Physical Tables
Click below to view the Elastomers/Materials: Chemical and Physical Tables PDF
Need help solving a tough engineering problem?