Engineered thermoplastic elastomers (TPE's), are one of the most versatile plastics available today.
Our wide range of TPE's combine many of the performance properties of thermoset rubber with the processing ease of plastic thereby providing design options and greater cost-reduction opportunities.
Minnesota Rubber and Plastics has pioneered the molding of TPE's in part by converting thermoset rubber parts to lower cost TPE components.
TPE's offer a wide range of performance attributes including: heat and oil resistance, improved adhesion, tear resistance, surface appearance and low permeability. And our experience allows us to know when to recommend a TPE over thermoset rubber. In addition, TPE's are colorable and can be specified in a variety of hardness grades.
Process and design flexibility are important features and advantages TPE's offer over thermoset rubber. They can be processed with the speed, efficiency and economy of thermoplastics and can be insert molded with other olefin-based materials, such as polypropylene, without the use of adhesives. With other substrates like polyamides, (nylon), or acrylonitrile butadiene styrene (ABS), mechanical interlocks can be designed into the part to ensure a tight fit.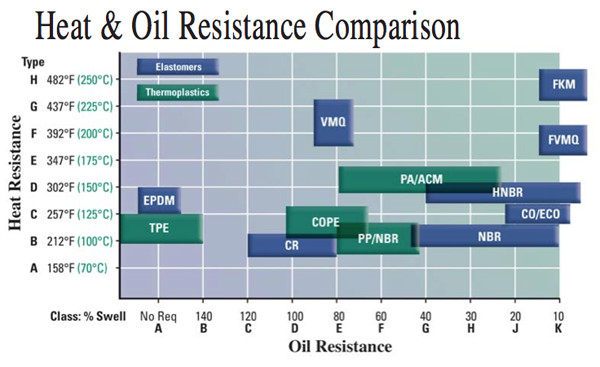 Thermoplastic elastomers serve a wide range of markets:
Agriculture & Off Road
Appliance
Automotive & Transportation
Consumer
Electrical & Industrial Controls
Food & Beverage
Hydraulics & Pneumatics
Marine
Medical & Safety
Plumbing & Irrigation
Abbreviation
COPE
Copolyester
CO/ECO
Epichlorohydrin
EPDM
Ethylene-propylene terpolymer
FKM
Fluorocarbon
FVMQ
Fluorosilicone
HNBR
Highly saturated Nitrile Butadiene Rubber
NBR
Nitrile Butadiene Rubber
PA/ACM
Nylon PolyAcrylic
CR
Polychloroprene (Neoprene)
PP/NBR
Polypropylene & Nitrile Butadiene Rubber
VMQ
Silicone
TPE
Thermoplastic Elastomer
Need help solving a tough engineering problem?